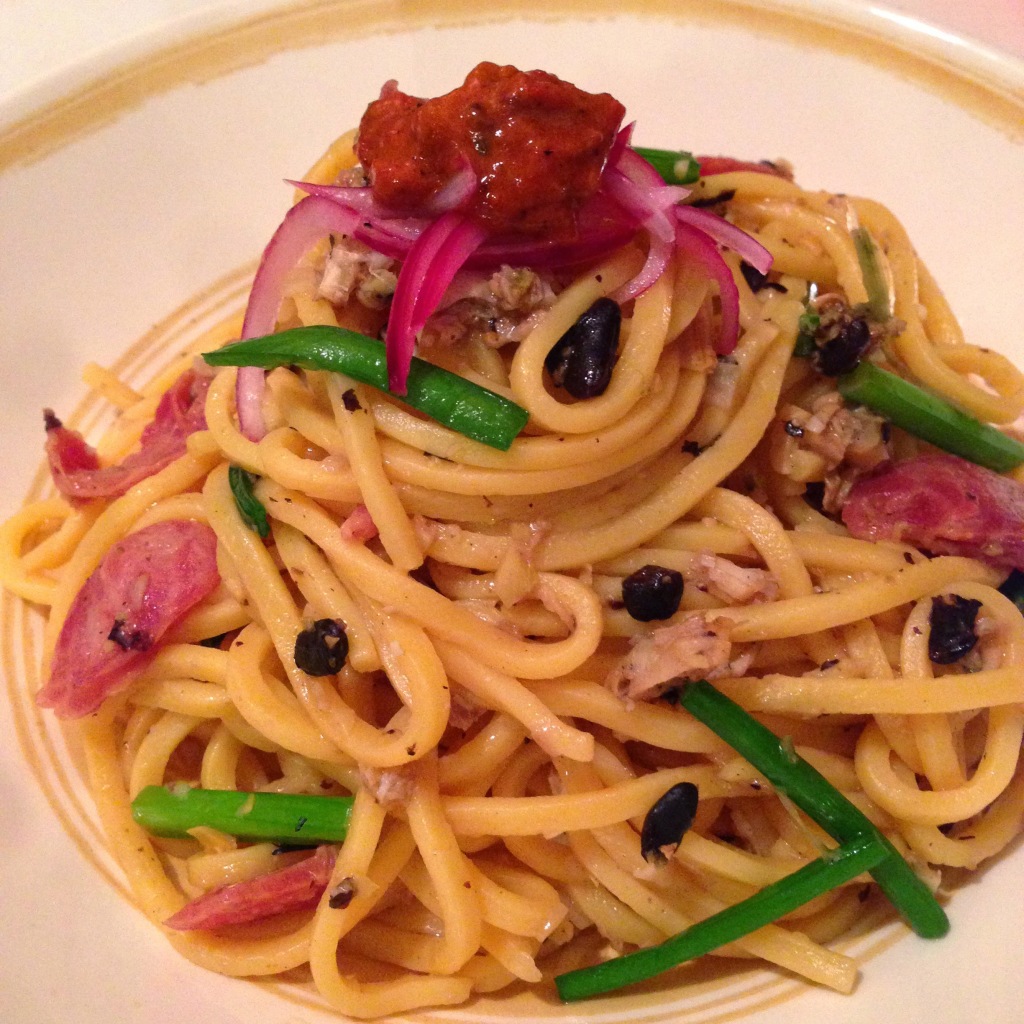 A couple weeks ago, Serious Eats published an article on the clam and black bean sauce noodles at Fung Tu. They interview Chef Jonathan Wu and follow him step by step through a dish that is "a simple one, and easy enough for home cooks to adapt to their kitchens." There's enough detail in the article that you can figure out most of the recipe, but there's no actual recipe published. (Not surprising, I don't blame Wu at all for not wanting to make it that easy.) Moreover, the steps Wu follows make about 12 servings of noodles. I don't know about you, but I usually don't cook for quite that many mouths in one sitting.
Well, this sounded like a challenge. Could I figure out how to replicate the dish at home and adopt the recipe for say, four servings?
It helps that one of the key ingredients is manila clams, and I happen to be working for a company that sells manila clams. So after rustling up the other ingredients and doing some educated guesswork, I came up with the recipe below for the noodle dish.
My main problem was that more clam broth was generated than needed for the noodles. I ended up reserving about 1.5 cups of the broth and freezing it for later. If the full amount had been used, the noodles would have ended up far too soupy and salty.
The chili oil was also a bit of a conundrum, since Wu lists the ingredients that he uses (neutral-flavored oil, dried chilies, smoky chipotles, fresh chilies, garlic, confit shallots, fermented black beans and tomato paste) but no proportions. In the absence of any guidance, I simply made something up based on what I had already in my kitchen.
Those issues aside, the final result is quite wonderful: the salty punch of seafood, cut by sweet & tart pickled onions and a dash of smoky chili heat. It is more work than your average weeknight dinner (removing the clam meat from the shells is the most time consuming part), but it's nowhere as labor intensive as most fine dining restaurant dishes.
Continue reading Hack the Dish: Fung Tu's Manila Clam & Black Bean Sauce Noodles →