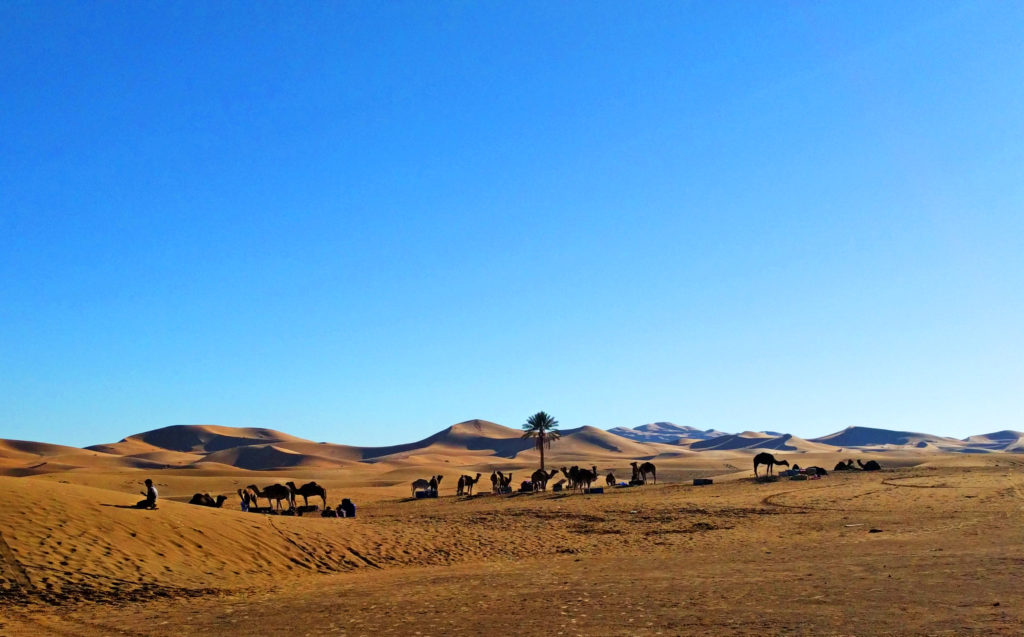 One of the most popular things for tourists to do in Morocco is to see the desert. If you search online, there are dozens of identical-sounding tour companies that more or less follow the same formula of driving you from Marrekesh or Fes out to the desert, putting you on a camel to trek to a Berber camp where you'll sleep overnight, then waking at dawn to catch the sunrise and do the reverse trek back to town before it gets too hot. (In November, heat was not actually a problem and I actually found the desert to be uncomfortably cold and damp because it had just rained a few hours before.) I emailed a few tour companies and got quotes of 270-300 euros per person, which seemed outlandishly expensive, even by NYC standards. They also required a deposit, which I was a bit wary of.
After doing some more digging and asking around, it seemed like our best bet was to set up something when we were on the ground in Morocco. Annoying, and it goes against my type-A love for planning, but if we didn't go with a tour company with a spiffy internet presence, it would likely cost a third to half as much. So I closed my eyes and simply left a few days of the itinerary completely unplanned.
After landing in Casablanca, we immediately hopped on a train to Fes, where we met Ali on the train, who specializes in ceramics designs. Ali was also on the way to Fes, and when we mentioned needing a desert tour guide, his eyes lit up and he immediately called a friend who arranges desert tours. What luck, only a few hours into the trip and we'd already solved our biggest logistical conundrum! The tour guide, Amin, said he could add us to an existing group tour for 1,100 dirhams, and asked to meet us at a cafe the next morning, so that he could explain the tour details. I wasn't totally sure why this couldn't be done over the phone, but figured it'd be an opportunity for us to suss him out. After buying us coffee, he promised to text me later with more details about a tour start time and pick up location for the next morning. We walked out after fairly confident that things were going as planned, until the hours went by and I still hadn't gotten any messages from Amin. In late afternoon, he messaged that he still wasn't sure about the tour time, and that there was a lot of snow in the mountains. Huh. Evening came and still no answers, and by the next morning, I was in a full panic. I called Ali and explained that his friend had gone AWOL, and he said he'd reach out for me. When he called back, he said that there had been an accident, that the tour was off, but we could take the Supratours bus to Merzouga and it would be fine. I'd researched the bus earlier, and while it was an option, from Fes it would entail back-to-back 11 hour overnight bus rides, which would make us sleep-deprived zombies. No thanks, it was time for plan B.

We started canvassing the Fes medina for a new driver. One guy asked for 7,000 dirhams (~$700), which was obviously a rip-off. The Sahara Desert tour company wanted 390 euros per person. Eventually, I talked to the hotel clerk at Hotel Batha, who made some calls and arranged for someone to take us for 3,500 dirhams, camels and overnight camping included. I handed the hotel clerk 500 dirhams (his commission), crossed my fingers and hoped the driver we'd just met wouldn't screw us over.
Luckily, our driver turned out to be an affable guy, whose English wasn't great but was serviceable enough for basic communications. He pulled over to point out scenic spots (monkeys along the road, the king's palace in Ifrane, or Morocco's "Little Switzerland"), and acted as our translator when needed. Gradually, the landscape changed from conifer forests to rocky steppes to full desert.
As you approach Merzouga, you'll see lots of roadside fossil shops, selling fossilized nautilus dishes, trilobite boxes and amethyst gems in rocks. During the Devonian era, the desert was covered with ocean, and it's relatively common to find fossils today. Everything is very pretty, and expensive (200 Dh as the starting price), but you can knock off 40% or so with persistent bargaining. One vendor pulled out a box of "dinosaur teeth" to show us. When I laughed incredulously, he said, "No, really!" There was another shop that had a t-rex skeleton replica outside of it.
We made it to Merzouga after dark (driving at night is definitely not recommended, as with any developing country), ate a hasty meal of tagine and pomegranates, and hopped on our camels for a moonlit trek through the desert with stars blazing above us. I'd never seen the Big Dipper so clearly.
The rest of the desert was a sensory blur, though not in a bad way. We hung out with the other two guests at the camp for a while, playing drums and dancing as our young Berber guides sang, smoked and poured mint tea. The camp is definitely geared for tourists (I was sort of hoping it'd be an actual Berber camp), but given our limited time, I still appreciated the chance to talk to some locals. One of our guides mentioned that his family is camped further into the desert, near the Algerian border. To get there, he makes the 50 km trek on foot over the course of two days, guided by GPS. I'll never complain again that it's a pain to go visit my parents.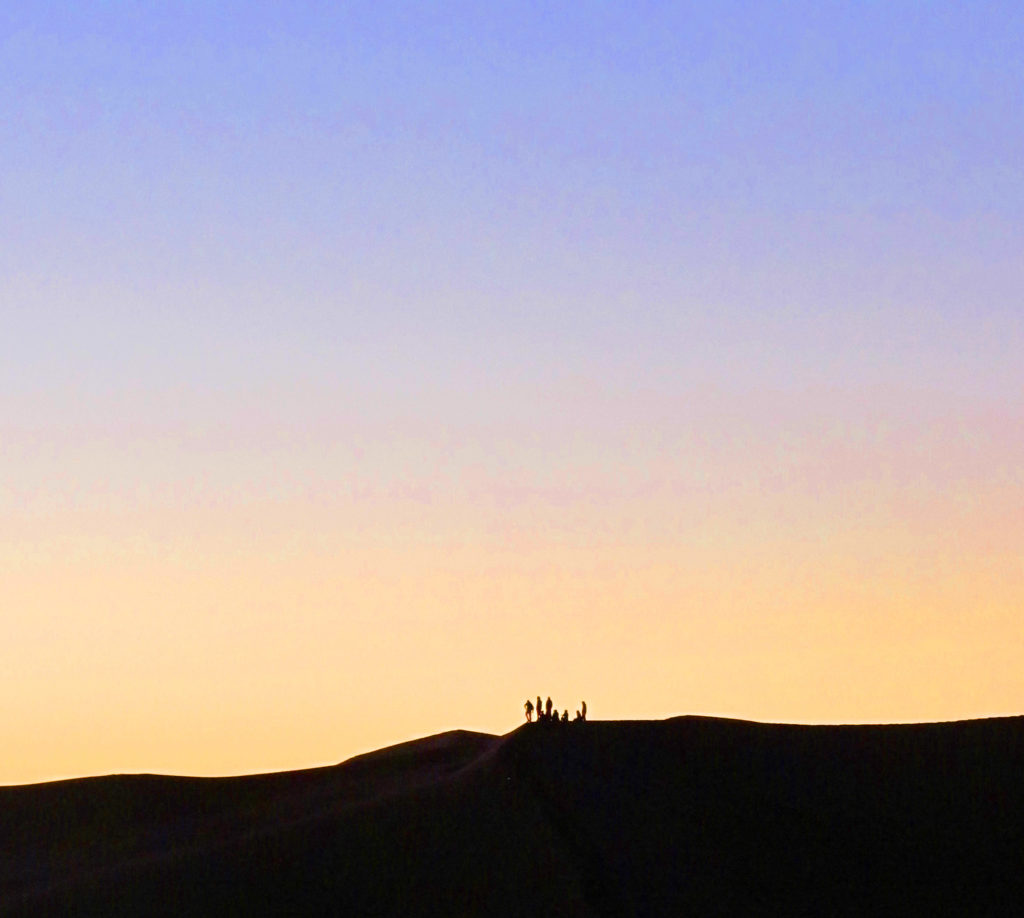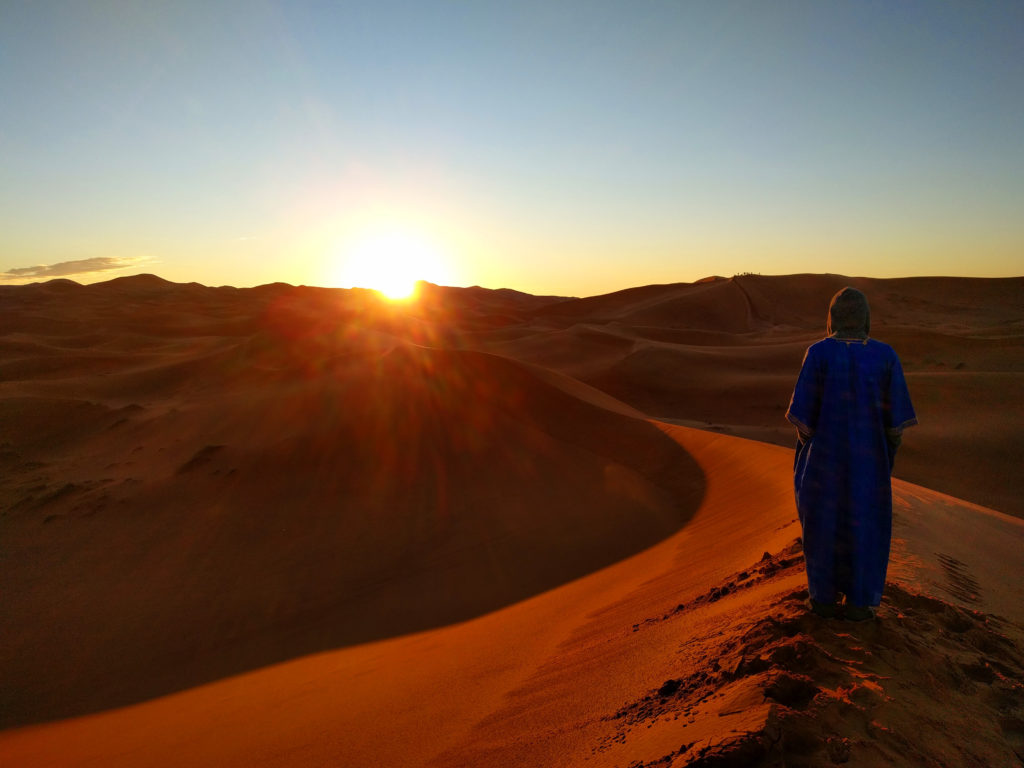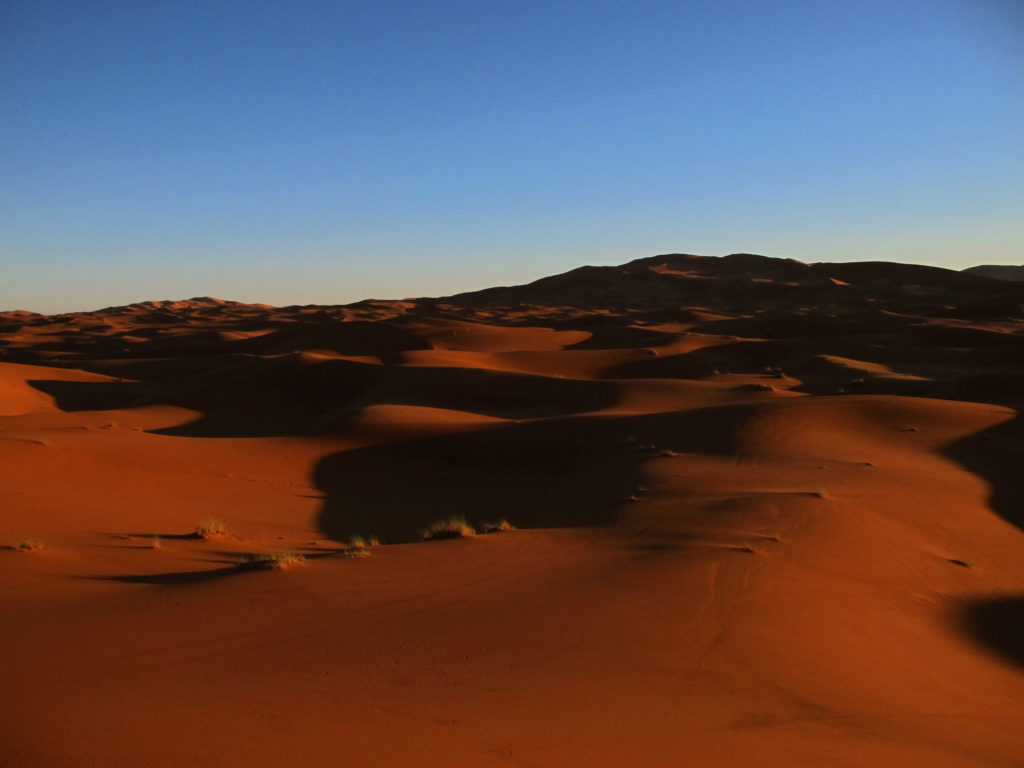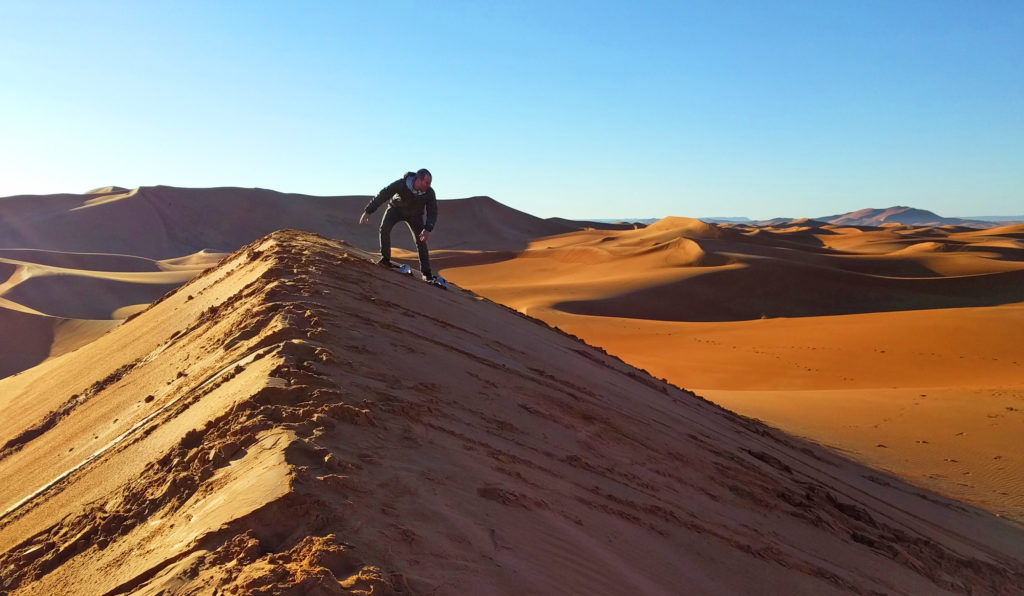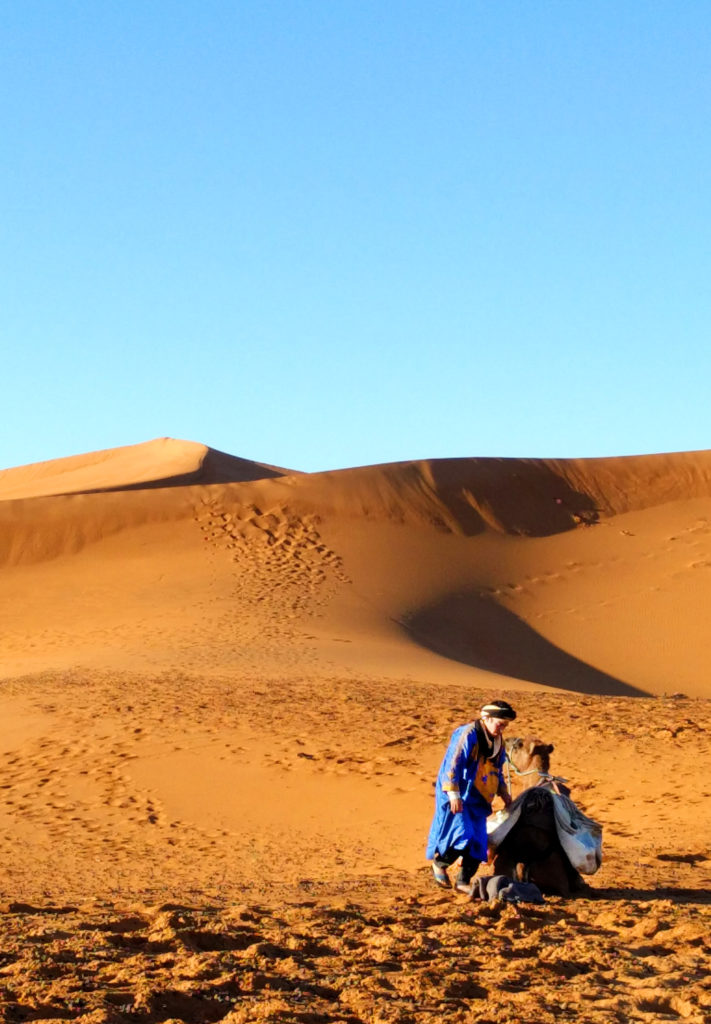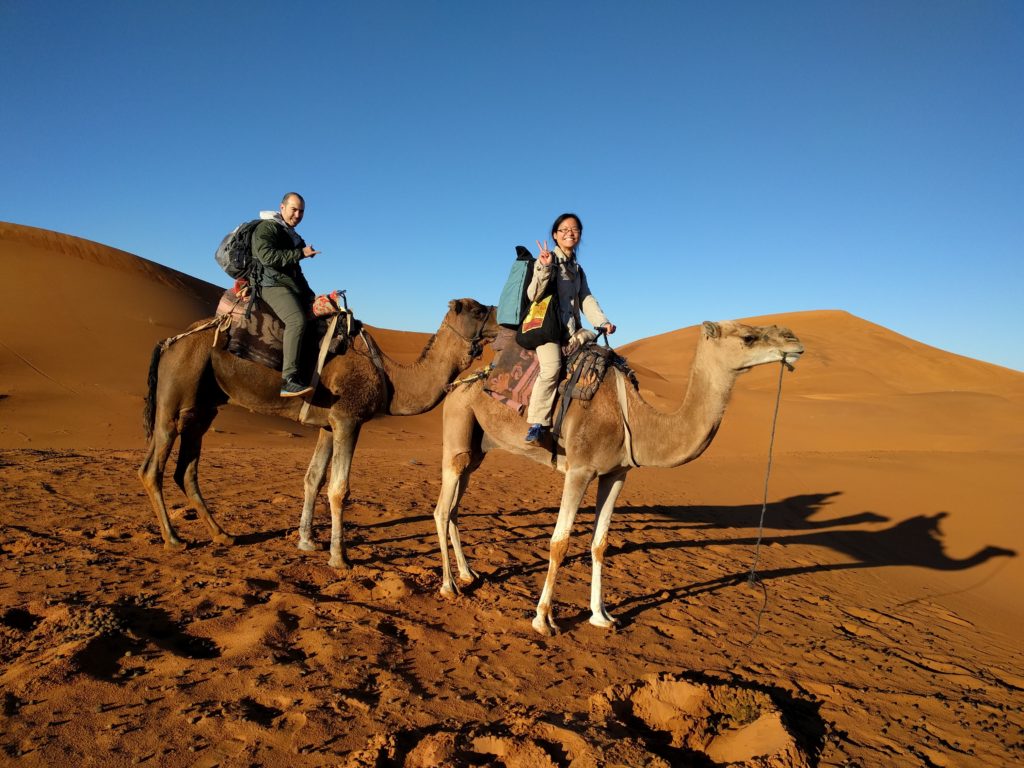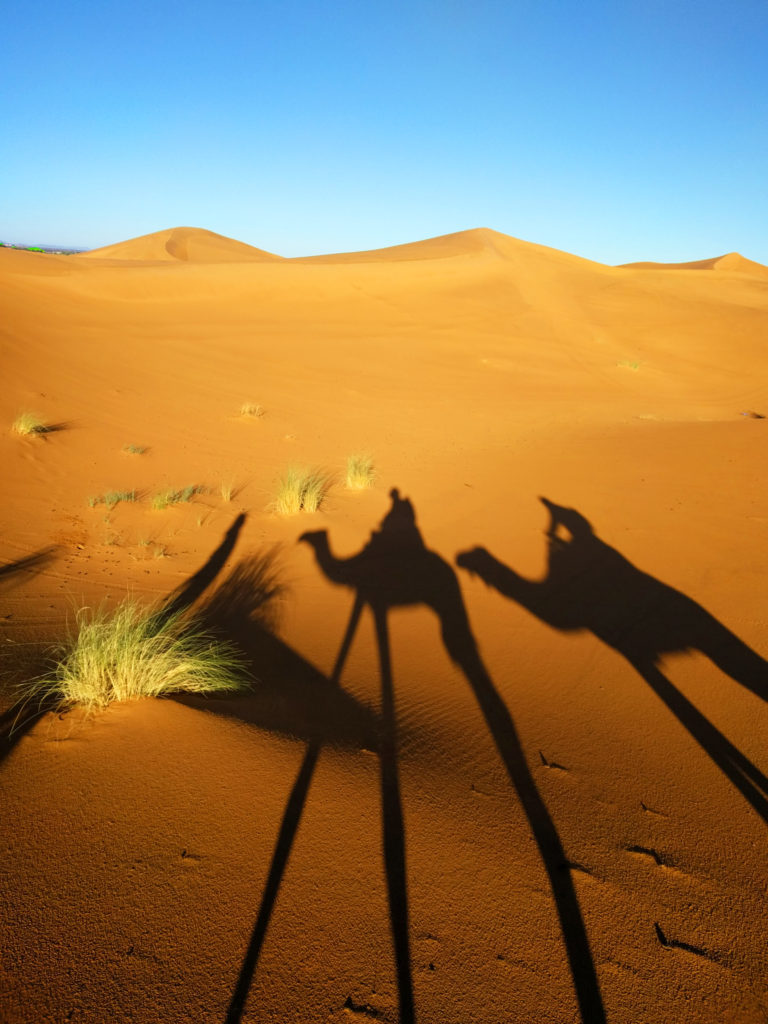 For obvious reasons, I can't recommend the first tour guide we had, but I can wholeheartedly recommend our new driver, who seemed pretty experienced (he said he does the Fes – Merzouga drive 2-3 times per month) and had our interests at heart (there was no pressure to buy anything, and we didn't pay until the end of the trip). Unfortunately I don't have his direct number, but he seemed to be working for Mustang Travel. Or you could talk to the staff at Hotel Batha for other tour questions; just be aware that you'll be paying a bit more to cover their commission.
All in all, it was all totally worth it.