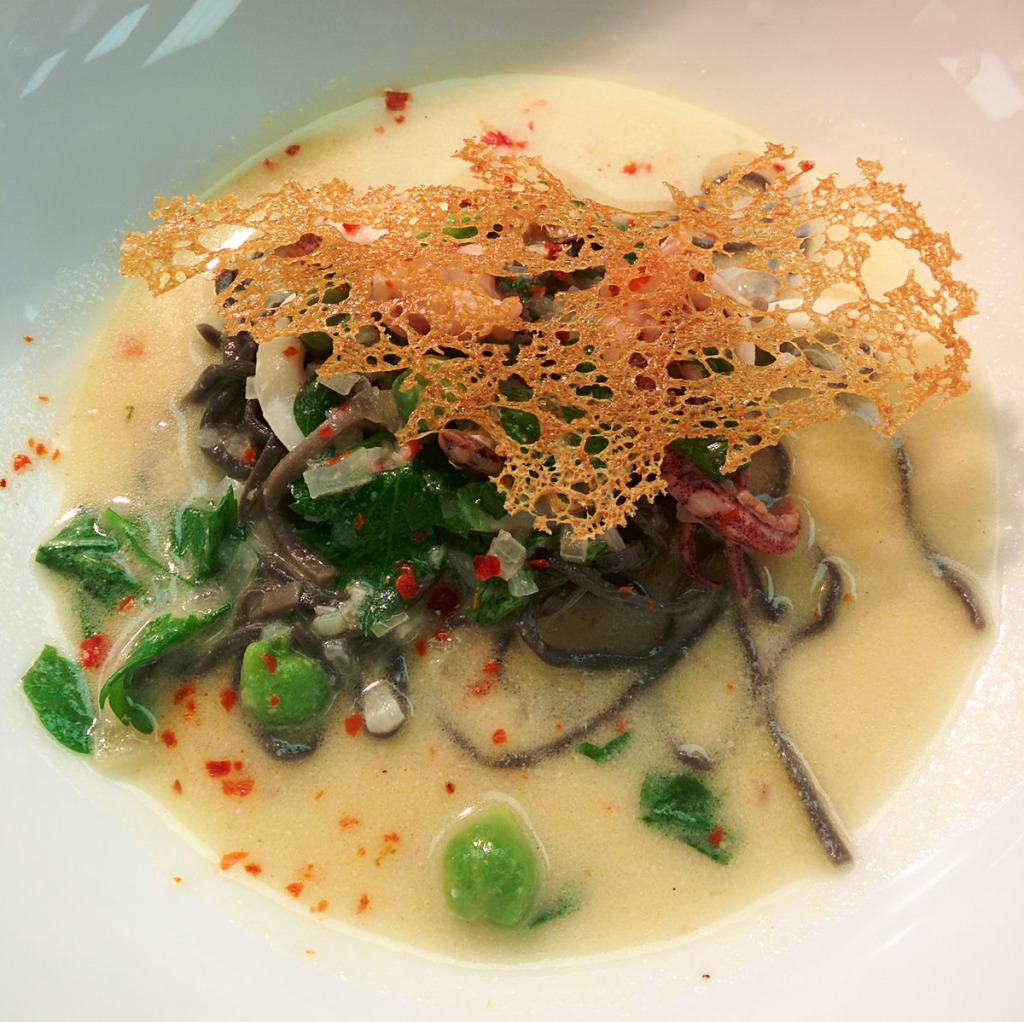 Squid ink spaghetti, grilled calamari, sesame, fresh green chickpeas (!), crisp, mussel broth, pepper flakes
"Fire four halibut."
"Four halibut!"
A warm evening in May, and flowers were blooming inside the wood accented dining room of Gramercy Tavern. It was early for dinner, but students were already gathering with their families, a parade of graduation gowns mingling with power suits and little black dresses.
You know how sometimes things that seem totally unattainable become magically available when you just ask? I hadn't even considered trailing at a restaurant the caliber of Gramercy Tavern, until a friend mentioned that he was pretty sure they would accept an intern, and he could put in a good word for me and find out. Sure enough, just a few days later, I was stepping through the swinging doors at one of New York's classic arbiters for fine dining and good taste.
After signing a legal waiver and slipping into a jacket, I made my way upstairs to the pre-service staff meeting. Chef Michael Anthony was introducing Sean Barrett, founder of Dock to Dish, a cooperative of fishermen based in Montauk who distribute to restaurants and consumers. Dock to Dish supplies their catch to Gramercy Tavern, and Barrett was in house today to talk about his story and business model.
"I started fishing out of Montauk, and grew up on same day seafood," Barrett said. "I wanted to make this available for a larger community, and I thought, how can we can catch locally and get it to the community? So, we founded a community supported fishery, and as a member, you're entitled to whatever comes to the dock that day. We're able to get you the top of the catch, and we subscribe to an ecosystem-based management approach. We use spear guns and rod & reel methods, but there's no halos around any one method. Sometimes we use small boats, but we use larger boats in tough weather.
"I've always known Gramercy Tavern would be a perfect fit for us, with its focus on local sourcing and letting ingredients drive the menu, and I had Chef Mike on the top of my list. It's no easy feat for a restaurant to receive whole fish, but the trade off is that you're getting extraordinarily fresh seafood. That is definitely something we're proud of. We're thrilled to be working with Gramercy Tavern and Le Bernardin, and we're a natural fit for them philosophically. Today, we're partners with 10 restaurants and 100 community members. How do we keep this going for the next five years? By doing exactly what you're doing, and demanding full traceability."
There was a round of applause and a series of quick questions. "Ok guys, I'm sorry but we're out of time," said Chef Michael. "Write down your questions and I'll pass them on to Sean!"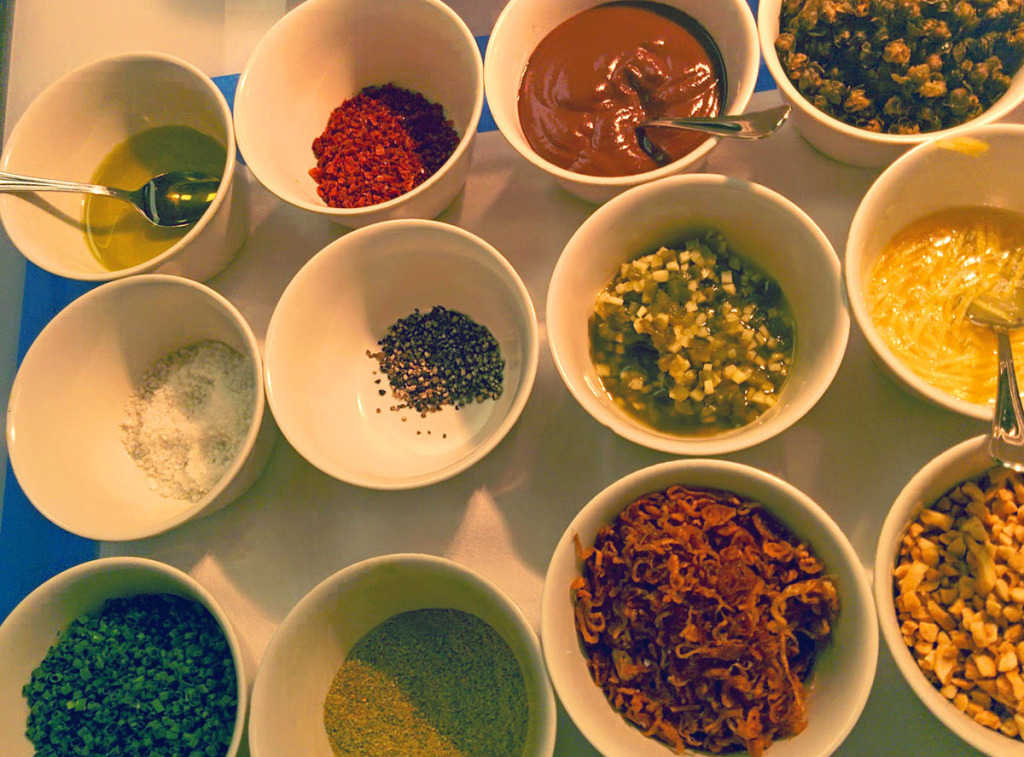 "Hi, I'm Duncan, the pm sous chef. Welcome to Gramercy Tavern." He motioned for me to stand at the end of the pass. "Be careful where you stop, this is a good spot to hang out and observe the action." I was hovering near a big tray of garnishes, sauces and other finishing touches. Sea salt, chives…was that chocolate sauce? Nope, olive paste.
Chef Duncan would be the dominant voice heard for that night's call and response church service.
"Fire entrees. Flounder, black bass, cooked through."
"Flounder, bass!"
"Can I get a spring salad and soup now? Allergies to peanut, soy, corn."
I raised my eyebrows at this. Perez, the expeditor, whispered, "You ain't seen nothing yet." He'd been on expo for 17 years. "Back when I started, I was 40 lbs lighter, and I was handsome too!" he cracked. His job as expeditor was to monitor the flow and pacing of the courses that went out, working in parallel with the sous chef. Here beneath the bright, height-adjustable heat lamps reigned Perez in his home territory. Armed with a black Sharpie, he marked each ticket with its table number and times to indicate when a course was sent out, to ensure there wasn't too long of a gap between dishes. Before each plate left the pass, he would inspect it to make sure it was clean, swabbing with a rolled cloth to clean up any errant sauce drips or grease spots.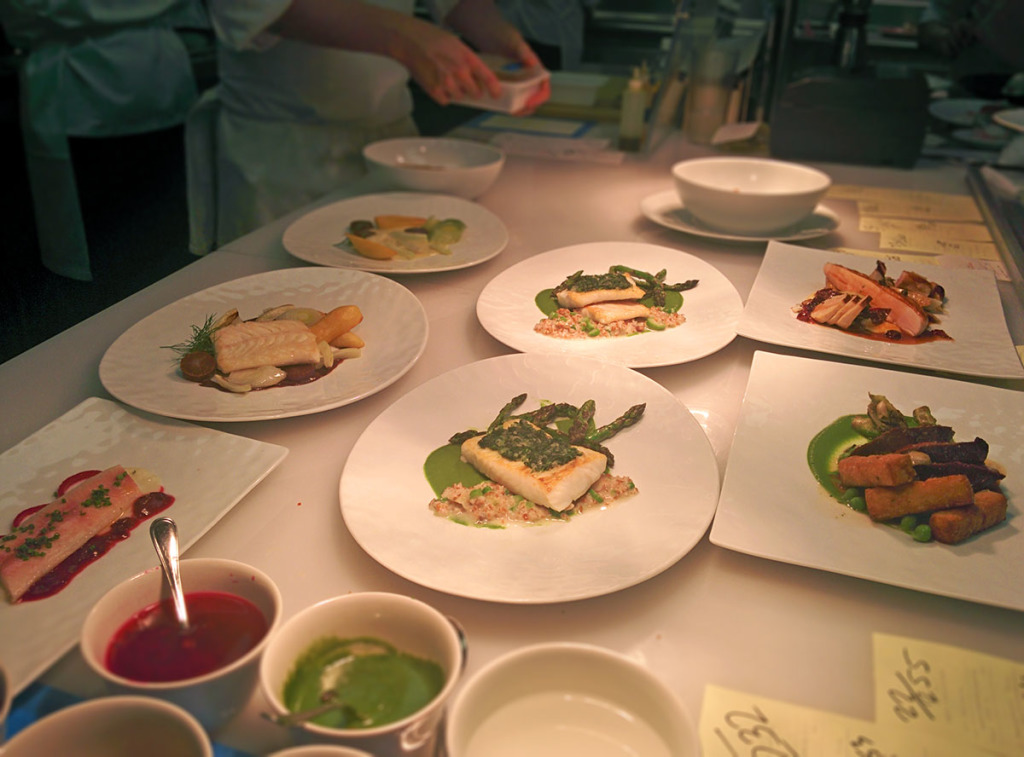 Tonight, the restaurant was geared up for 210 covers, with 100 in the more casual front room of the Tavern. Perez showed me the reservations chart, arranged by headcount for each time slot. It looked like a U, with the greatest number of reservations at the 5 and 10 pm endpoints. "Another late night, but it's going to be ok," said Perez.
"VIP in the house, we need a special amuse, extra course."
The Gramercy Tavern team strives to make no extra noise in the kitchen. The only voices that should really be heard are the sous chef and the expeditor, and everyone tries to keep loud banging and pot rattling to a minimum. It was a very different atmosphere from the last kitchen I'd been in.

Flounder: asparagus, lardo, freekah, red buds, nettles, leeks
Chef Duncan inspected a plate on the pass and motioned for the line cook responsible to take a closer look. "You don't want too many flowers on the plate. It's like having too much make-up on a pretty girl." "Yes, Chef!"
Chef Michael popped back in to see how I was doing and give more context for what I was seeing. "We have two people on garde manger, two on fish, two on vegetable, two on entrecote [meat]. There's no hierarchy to the stations. I don't think it makes sense for someone to only be able to move when the person above them has. You might rotate every 4-6 months or 8-10 months, depending on how you progress. We're looking for maturity and mastery of the skills for that station, but not only that, we look at how the person works with the people around them. We're always thinking about each cook's growth."
"Fire five spaghetti, one carrot."
He went on to explain that the line was staffed mostly by recent culinary students, but he also hires people who have a lot of experience in high pressure NYC kitchens. I began feeling a little guilty about what I was doing here and ventured a question, "So, is everyone's goal to be a chef?" Chef Michael shook his head. "Actually, not all of them want to be chefs, and that's totally fine. Some people will go into catering or become personal chefs, and there's even people who go into food writing, publishing and film." I looked around the kitchen and tried to discern beneath their furrowed brows and crisp whites. Who would be the next James Beard award winner or the next editor of Saveur? "We like to have balance in the kitchen," Chef continued, "and especially not to have all men. When you get too many people from the same mold, sometimes it gets a little too competitive."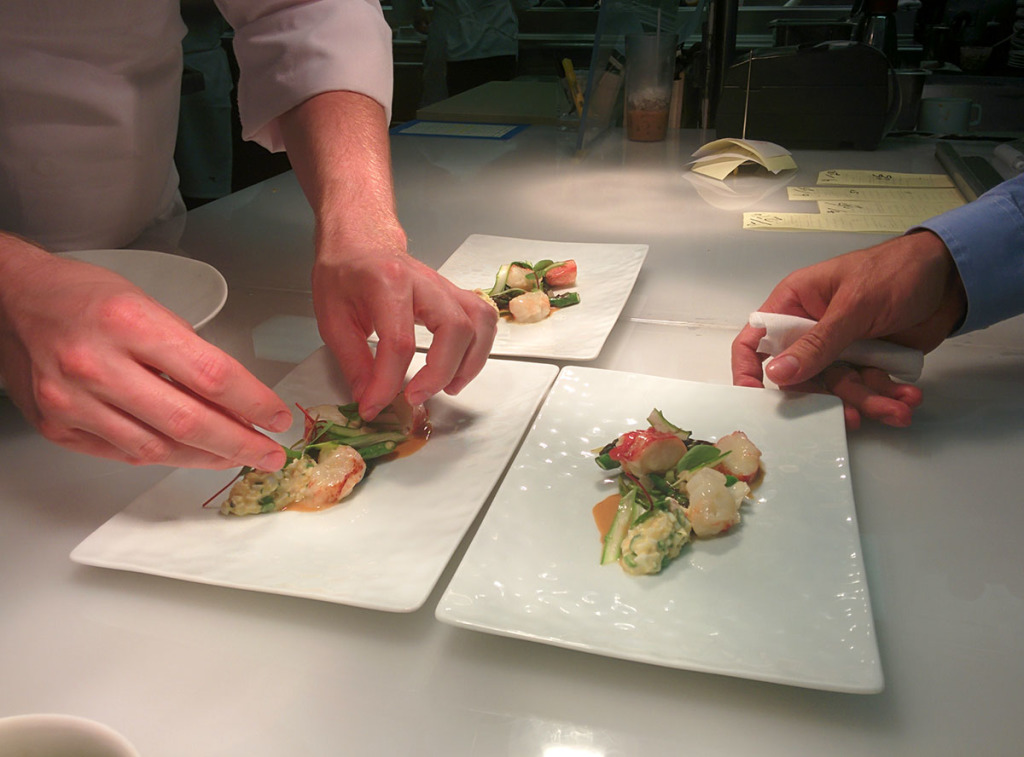 Meanwhile, Chef Duncan shook his head at a plate. "Be careful about the asparagus placement, don't just put it on the plate," he instructed. "It needs to be harmonious but not meticulous. Think, harmonious scattering." He bent over the plate and rearranged the stalks some more.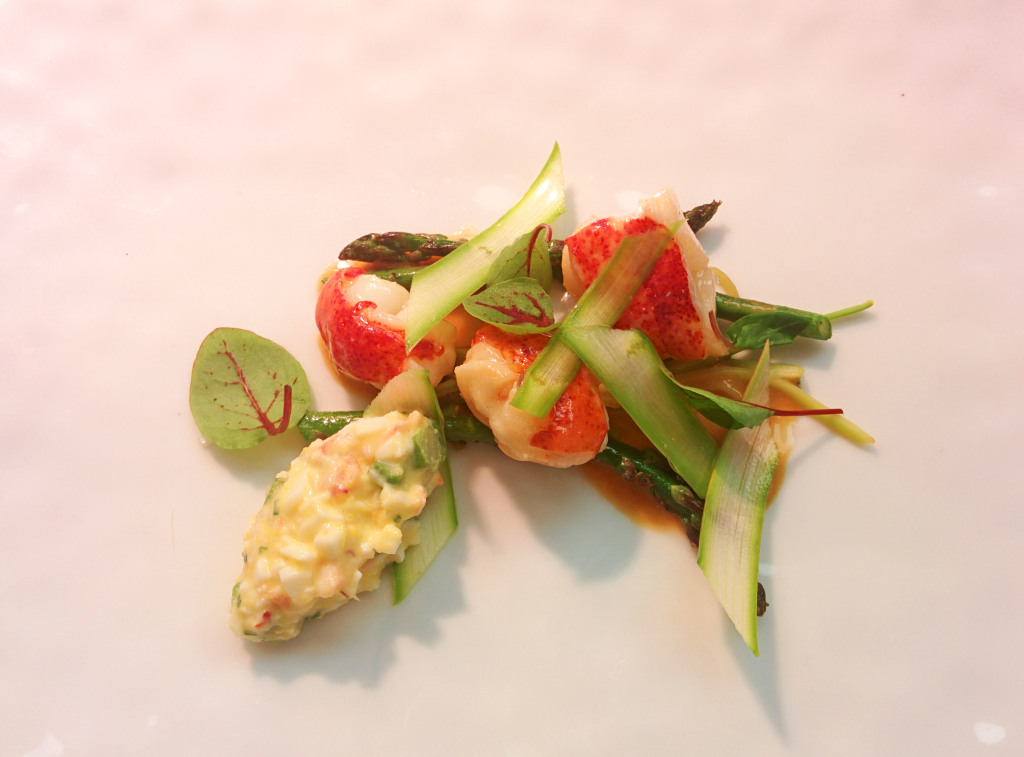 The room spun with motion. About 15 cooks tangoed on the floor, among them five women, three Asians, one black. Three were sporting visible burns. A small legion of dishwashers, expediters, runners and waitstaff streamed in and out of the kitchen. When I left the kitchen to look for the restroom, I was gently reminded to only exit from one swinging door and enter from the other to prevent collisions.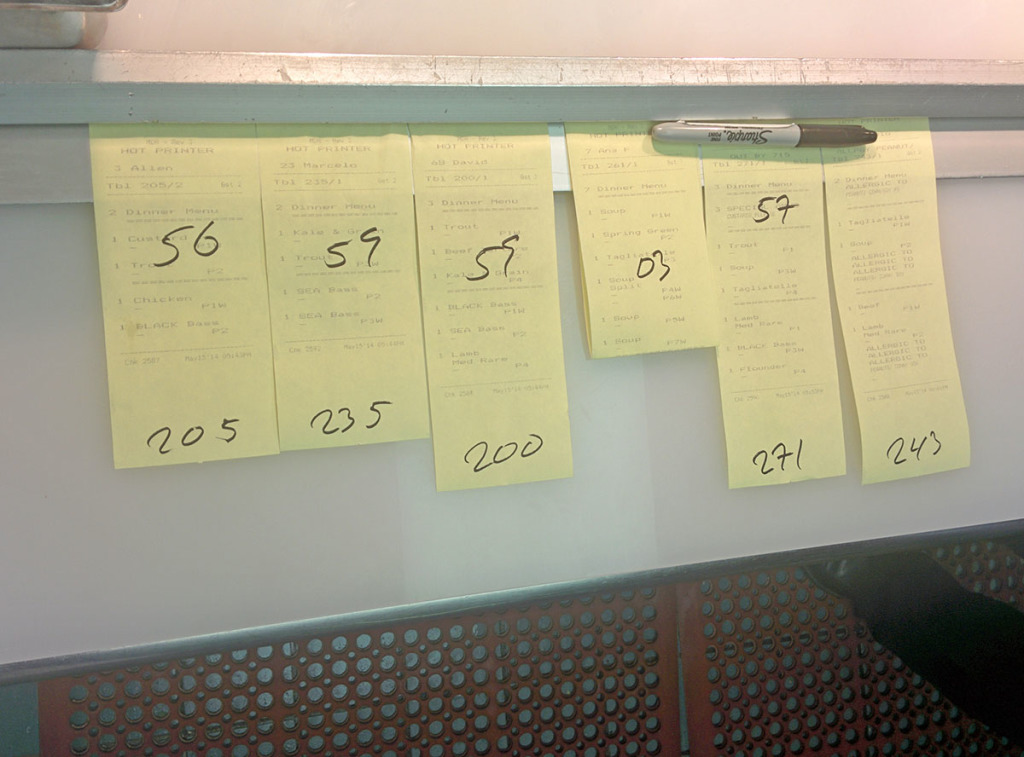 8 pm. The pass was full with tickets. "Pick up, pick up!" "What do you want, I'm so busy!" Perez gave directions while wiping plates dry and arranging doilies on them. I wandered to the back of the kitchen, where student externs were cooking for the private dining room. Two fresh faces stumbled into the kitchen, searching for answers. "Ashley, your friends are here to see you!" It was her last day at Gramercy Tavern, and everyone was giving her goodbye hugs.
"Nine spring salad, six lobster, three carrot. Seven striped bass, two chicken, three beef, one red, one well." Shouts pealed out to confirm the order and the kitchen returned to the quiet roar of flames.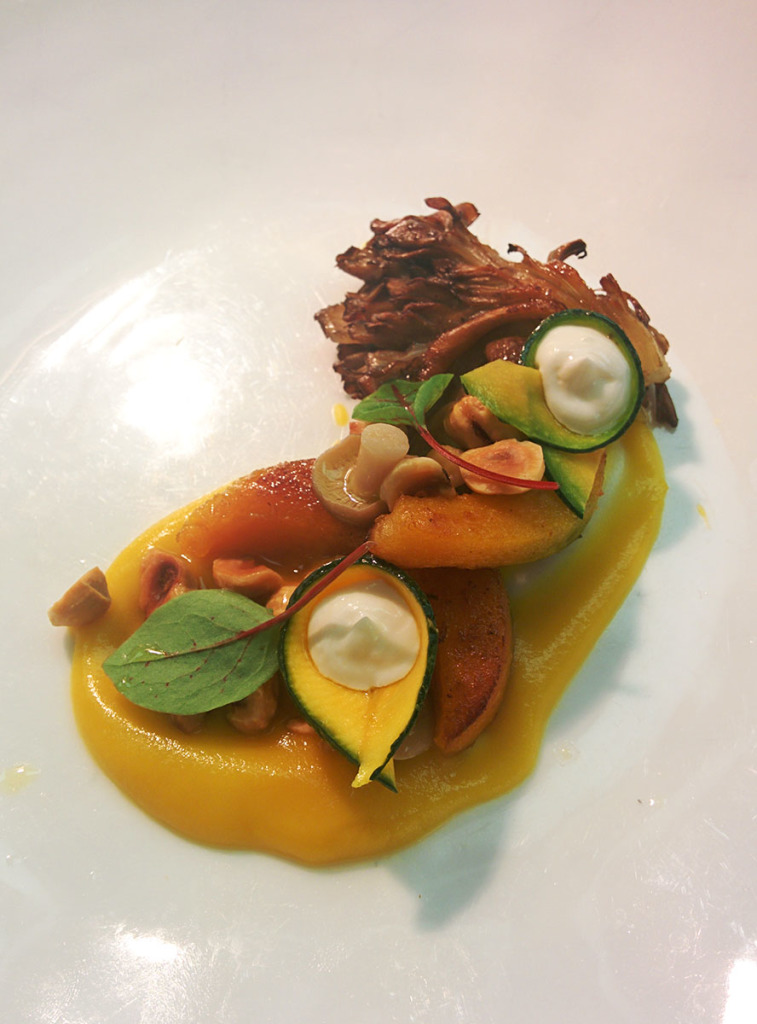 Kabocha squash, hazelnut, brown butter, ricotta, maitake mushroom
Chef Michael paused to talk to a server. "Make sure the doily has the Gramercy Tavern logo facing the guest. White space is just as important in food as in graphics or web design."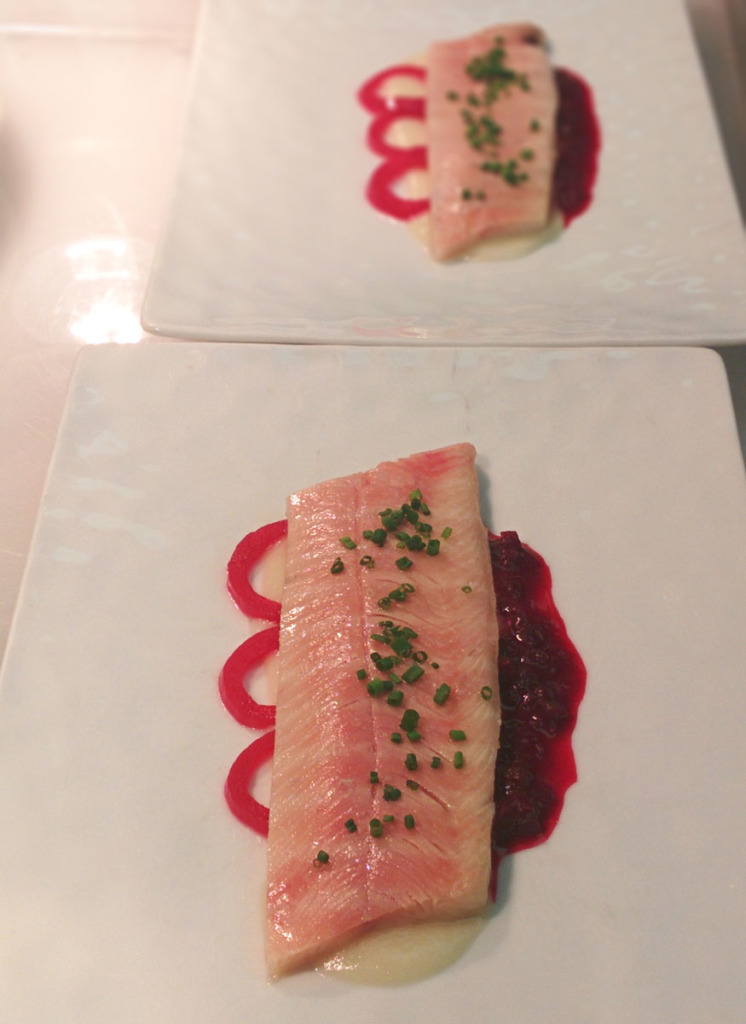 "We strive for a simple, seasonal menu, one that's anchored to a region. To fall in love with a dish, you have to have a hook. Take this smoked trout with onion dish. It comes out and in one breath, it lets you know what day of the year it is. When you leave, you will remember early spring that year."
I took a bite. The warm, silky fish blanketed my tongue, followed by a fluffy potato puree and the tickle of new pickled onions. Simple yet powerful.
"Next ticket, soy allergy. But white soy is fine."
"I know it is, she's not really allergic…"
"What's your favorite dishes so far?" asked Chef Michael. It was a tough question. "Probably the trout and onion, and the ancient grains and kale salad," I replied. "I love when you can make seemingly boring ingredients shine."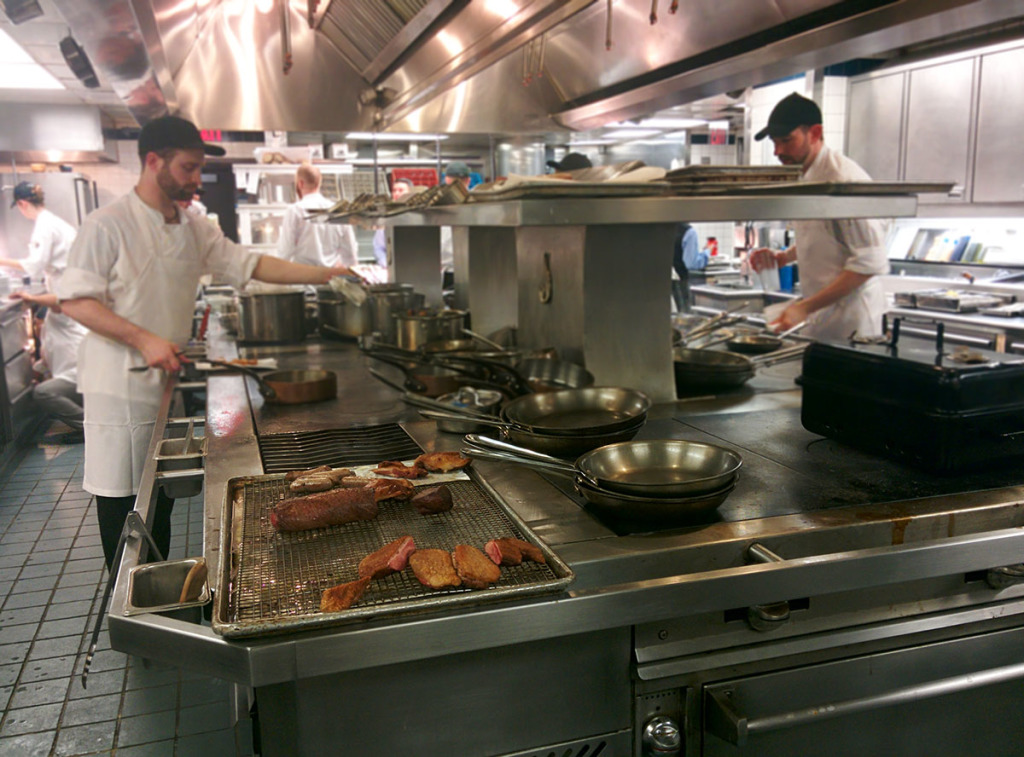 9:30 pm. I rocked back and forth on my feet to alleviate the pressure.
"Ok guys, we're still in service, yes?"
"YES!"
"Five in one."
"Five in one!"
Chef Michael ushered me into his office downstairs. "So, what do you think of the kitchen here? I spent six years working at Tabla before moving to Gramercy Tavern, and I'm now in my seventh year here. I'm proud of how we've improved the culture and really created a supportive learning environment for the team here." It definitely showed, and I was blown away that warmth, hospitality and the willingness to teach exuded from every cook I'd met that night. What a striking difference from the previous kitchen I'd been in, how could I possibly express my heartfelt thanks and joy at being inside this world! Clearly, Chef Michael had hired and trained his staff well.
He grinned. "We can teach people how to cook, but we can't teach them how to recognize beautiful things. Even more important, we can't teach you to be naturally friendly, and it's so important to know how to work with the people around you.
"I'm so glad you had fun and learned something about Gramercy Tavern too. Let us know if you'd like to come back in the future."