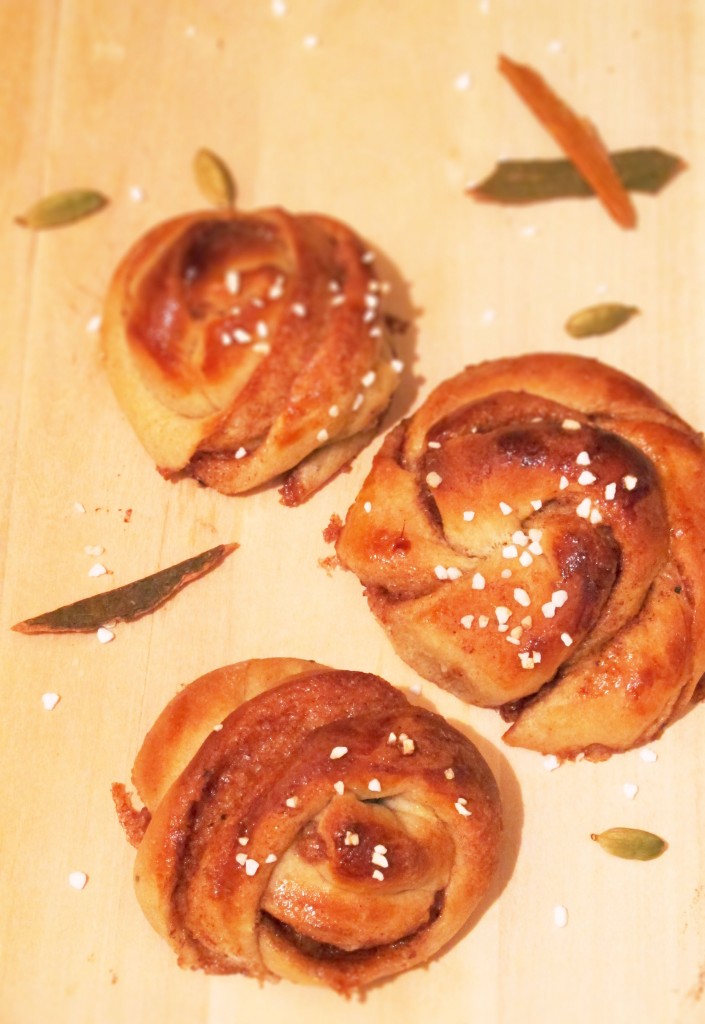 While I was in Sweden, I fell in love with the cinnamon rolls that are ubiquitous in their bakeries and cafes. Buttery pinwheels laced with cinnamon and crunchy pearl sugar, and a hint of cardamom to add an exotic depth not seen in your monstrous American Cinnabon.
Unfortunately, when I looked at recipes for Swedish-style cinnamon rolls, many of them were for massive batches (30-40 rolls?!) or in uncomfortable European measurements (deciliters). Baking is already fraught with volume vs weight peril as is, and I was hesitant to follow any one recipe. So, as is usually the case in situations like this, I analyzed several recipes and came up with some averages in convenient quantities.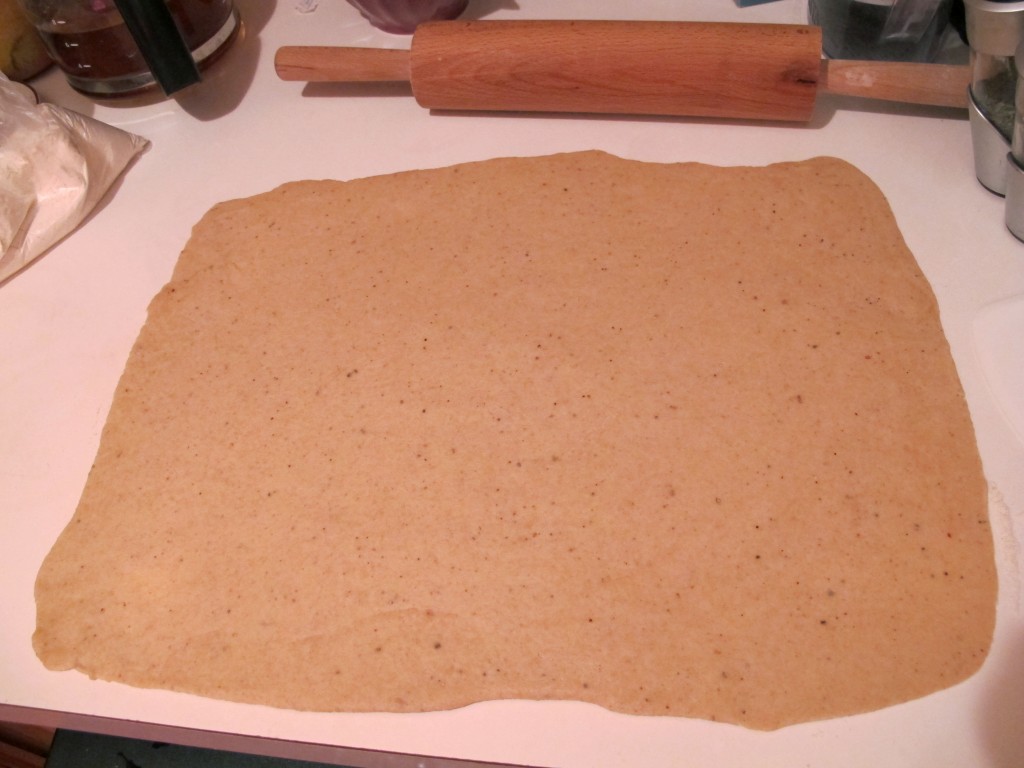 Essentially, you make a sweet bread dough with caradamom and let it rise for about 90 minutes. Then, lightly flour a clean counter and roll the dough out into a thin rectangle, about 15″ x 20″.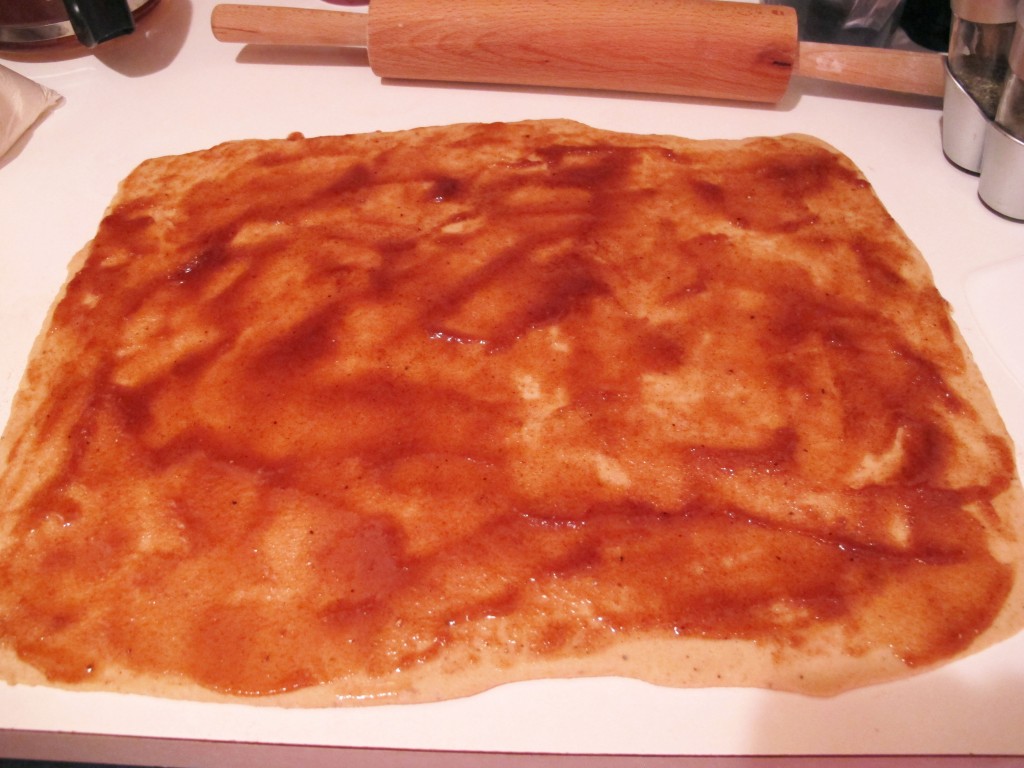 Cover the dough sheet with a layer of buttery and sugary goodness. This filling should be a little paste-like, not too runny.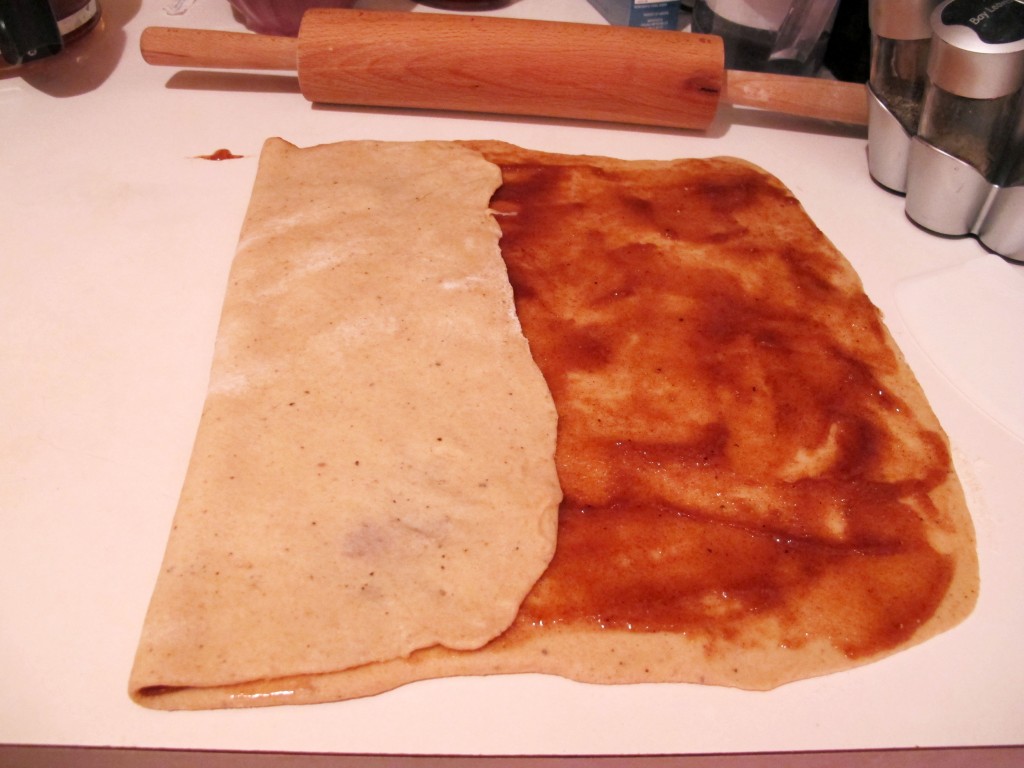 Next, fold the dough like an envelope in even thirds.
Using a long knife, pizza wheel or dough scraper, cut long strips of dough about 1/2″ wide. I was able to get eight long strips, and then subsequently cut each strip in half to make smaller buns.
The tricky part is mastering how to twist the cinnamon rolls into knots. After doing some research (thank you, Youtube!), I discovered Martin Johansson, a popular home baker in Sweden who has published some books and has excellent videos demonstrating how to make cinnamon rolls.
Here's the twist-and-spiral method:
Here's the slightly more complicated loop-around-the-finger-and-over-the-top method:
I probably watched these videos a dozen times. Be gentle as you handle the dough, as it is quite stretchy and pliant.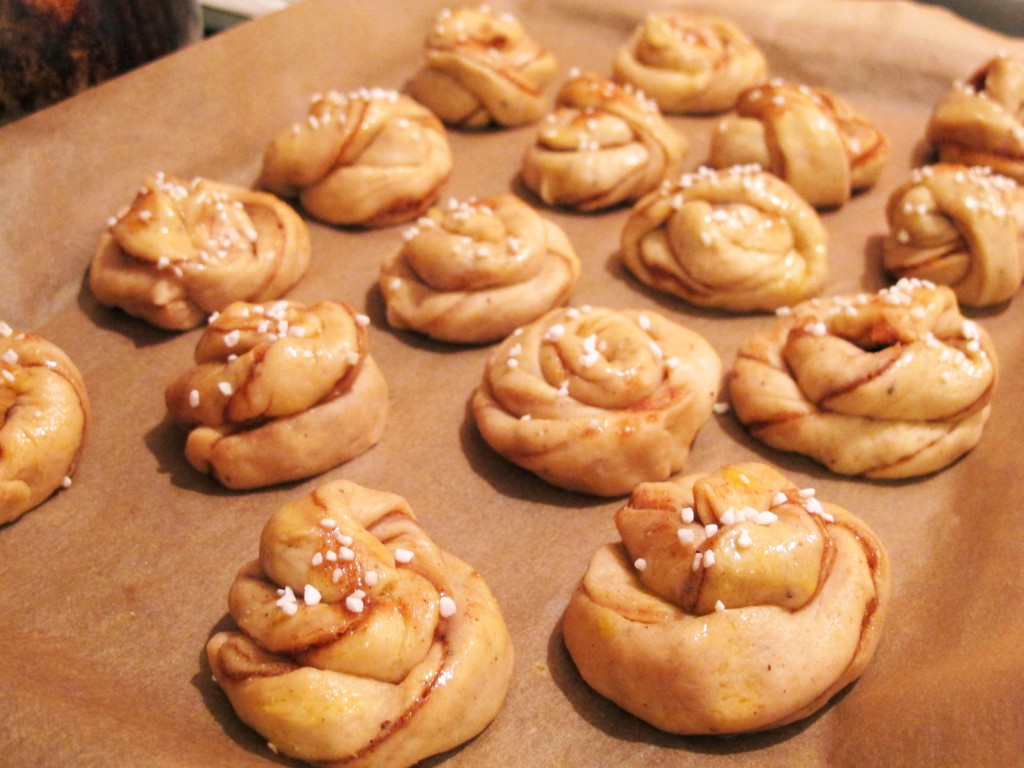 When you have finished twisting your cinnamon rolls, lightly brush the tops with egg wash and give them a good sprinkle of Swedish pearl sugar (or another coarse white sugar). Into the oven they go!
The following recipe makes a manageable batch of 8 large cinnamon rolls or 16 mini-sized ones, which is what I prefer.

Recipe: Swedish Cinnamon Rolls
Dough:
4 T (half stick) butter, room temperature
2 T sugar
Pinch salt
1 t (about 15 pods) cardamom, freshly ground (reserve a small amount for filling below)
4.5 t (15 g or 2 packets) dry yeast
2/3 C milk
2 C (260 g) flour (I used bread flour)
Filling:
4 T (half stick) butter, melted
5 T sugar
1/2 T cinnamon
1/4 t cardamom
1 egg, beaten
Swedish pearl sugar for sprinkling
In a mixing bowl or stand mixer, beat the butter, sugar, salt and cardamom together. Heat the milk in a microwave or stove top, and let it cool until it is about 115 F (warm but not hot). Add the yeast and stir well to break up the lumps. Let stand for 5-10 minutes; the mixture should be bubbly. Add the milk to the butter and sugar mixture. Add the flour and mix well until the dough is smooth and elastic (about 3-4 minutes using a stand mixer with a dough hook). Cover the dough with a towel and set aside in a warm place. Wait for the dough to double in size, approximately 90 minutes.
Meanwhile, combine the ingredients for the filling. It should be a little paste-like, not too runny.
After the dough has risen, roll it out on a clean, lightly floured counter. Form a rectangle about 15″ x 20″ and cover the sheet with a thin layer of the cinnamon filling. Fold the sheet into thirds like a letter. Using a long knife, pizza cutter or dough scraper, cut the dough into strips about 1/2″ wide. You can cut these strips in half again if you'd like to make smaller rolls. Twist the strips into rolls (see videos above) and place on a tray lined with parchment paper, leaving about 1″ between rolls. Brush the tops of the rolls with egg wash and sprinkle with Swedish pearl sugar. Bake at 450 F for 9 minutes, or until golden brown. Serve with a strong Swedish coffee for fika.